The space for human rights defenders, activists, journalists and opposition political parties was increasingly restricted while people across the world faced a deepening human rights crisis fueled by growing intolerance of dissent and a rise in politics of hate and fear, warned Amnesty International to as it launched its annual assessment of human rights yesterday.
The report, The State of the World's Human Rights covers 159 countries, including 11 in Southern Africa, delivers the most comprehensive analysis of the state of human rights in the world today.
Across Southern Africa, courageous people and activists refused to give in to government repression and took to the streets to claim their human rights under difficult circumstances.
In Zimbabwe, Pastor Evan Mawarire of the #ThisFlag movement was acquitted in November after facing court charges simply for campaigning against corruption, human rights violations and the declining economy.
"2017 was a terrible year for human rights in Southern Africa. We have witnessed widespread punishment of dissenting voices and politically-motivated attacks on peaceful protests, as well as growing inequalities and precarious access to social and economic rights," said Deprose Muchena, Amnesty International's Regional Director for Southern Africa.
"But there are glimmers of hope. For example, the departure of Robert Mugabe from Zimbabwe's political scene after 37 years in power in which he presided over the brutal repression of political opponents offers a new window of opportunity for the country and people claiming their rights."
In Zimbabwe, economic instability, drought, high poverty levels and unemployment were some of the obstacles for many to access education, health and food. Children are affected by extreme poverty and their chances of succeeding in life are slim.
Zimbabwe, under former president Robert Mugabe, was widely known to be a human rights violation hotbed, as the former ;leader's heavy handedness on political activists was second to non.
Use of excessive force and other abuses to disperse peaceful protests resulted in deaths, injuries and unlawful arrests in the country.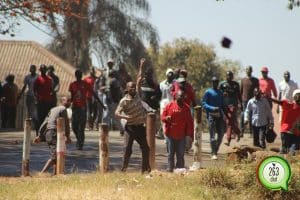 During his days, Mugabe came up with laws that made it difficult for human rights defenders ,journalists and activists to operate.
Laws like the Access to Information, Protection of Privacy Act (AIPPA), Public Order and Security Act (POSA) and the Broadcasting Act have been described as draconian as they restrict human rights defenders and watchdogs from executing their duties.
However,activists and human rights defenders continued to mobilize to hold the government to account through peaceful protests on the streets and via social media.
President Robert Mugabe resigned in November after 37 years in power.
According to the report by Amnesty International , Intolerance of peaceful dissent and an entrenched disregard for the right to freedom of peaceful assembly were increasingly the norm.
From Lomé to Freetown, Khartoum to Kampala and Kinshasa to Luanda, there were mass arrests of peaceful protesters, as well as beatings,
excessive use of force and, in some cases, killings
Political deadlock and failures by regional and international bodies to address long-standing conflicts and their underlying causes were also in danger of becoming normalized, and leading to more violations, with impunity. In over 20 countries, people were denied their right to peaceful protest, including through unlawful bans, use of excessive force, harassment and arbitrary arrests.
The right to freedom of assembly was the exception rather than the rule.
In Angola, Chad, Democratic Republic of the Congo (DRC), Ethiopia, Sudan, Togo and elsewhere, legal, administrative and other measures were used to impose unlawful restrictions and bans on peaceful protests.
Amnesty International warned that in the absence of global leaders standing up for human rights, governments are shamelessly turning the clock back on decades of hard-won protections.
Signs of regression cited in the report include clampdowns on peaceful protests in Zambia, and attempts to roll back women's rights to access sexual and reproductive health and rights in South Africa and Zimbabwe.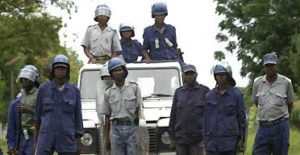 Yet these regressive policies have inspired many people to join long-standing struggles, and the report details many important victories that human rights activists helped to secure. These include the indefinite postponement of the amendment to the proposed penal code in Angola which would decriminalize abortion in all cases without exception after public outcry.
"The indomitable spirit of human rights activists leading powerful movements reminds us that the thirst for equality, dignity and justice will never be extinguished. There is a palpable sense that protest movements are on the rise globally. If governments stand against such movements, they will erode their legitimacy," said Salil Shetty, secretary general of Amnesty International.
"In 2018, we cannot take for granted that we will be free to gather together in protest or to criticize our governments. In fact, speaking out has become more dangerous" warned Salil Shetty.
Throughout SADC, there was "persecution through prosecution" against   human rights defenders and opposition leaders, said the report.
"Whether it was Robert Mugabe of Zimbabwe or Edgar Lungu of Zambia, leaders used the criminal justice system to silence human activists and their political opponents," said Deprose Muchena.
In October, the Ministry of Cyber Security, Threat Detection and Mitigation was established in response to social media activism.
In July, Darlington Madzonga and Edmund Musvubi were arrested by police during a peaceful protest in Harare, held by the opposition Movement for Democratic Change youth against the Zimbabwe Electoral Commission's failure to implement reforms.
They were charged with killing a police officer during the protest and they remained in detention in Harare at the end of the year while their case was pending in court.
The state restricted the right to freedom ofvexpression particularly of human rights defenders and other activists. On 16 January, Pastor Philip Mugadza was arrested by police in Harare and charged with criminal nuisance after he said that President Mugabe would die on 17 October. He was released on bail on 10 March.
His case was pending in the Constitutional Court at the end of the year. If convicted, he faces a jail sentence of up to six months
Across Africa, Zambia's main opposition leader, Hakainde Hichilema of the United Party for National Development (UPND), was jailed for four months on trumped up politically motivated charges and later released after the authorities realized that they could not sustain any criminal charge against him.
Musician and activist Fumba Chama, also known as Pilato – left Zambia on 5 January after receiving threats over his new song Koswe Mumpoto (rat in the pot), which has been interpreted as criticising President Edgar Lungu and his ruling Patriotic Front (PF) ministers. He also faced harassment in 2017 for leading protests against corruption.
Clovis Razafimalala, a Malagasy environmental activist, was released from Tamatave prison after 10 months' pre-trial detention on trumped-up charges of organizing a protest.
The report also notes that millions of people worldwide are facing increasingly precarious access to basic goods and services such as housing, food and health care. Amnesty International warned that unless governments tackle the underlying causes of poverty and inequality, there is huge potential for even greater unrest.
Throughout the region, there are persistent worries about the rising levels of people living below the poverty line. In Madagascar, poverty was widespread. Access to food, water, health care and education remained a privilege for the few.
South Africa remains one of the highest unequal countries in the world today. Profound inequalities are continuing to undermine economic, social, and cultural rights for millions of South Africans.
"Across the world and in the SADC region, people are being forced to live an intolerable existence because they are being denied access to food, clean water, healthcare and shelter. If you take away these human rights, you breed despair with no limit or end. From Angola to Zambia, South Africa to Zimbabwe, we are witnessing the growth of a ferocious social discontent," warned Salil Shetty.
"If leaders fail to discern what is driving their people to protest, then this ultimately will be their own undoing. People have made it abundantly clear that they want human rights: the onus now is on governments to show that they are listening and responding."