Introduction
Right from the beginning, the sunny side of Marange's rich alluvial diamonds was obscured for many Zimbabweans. More so, to communities impacted by diamond mining activities, who have been subjected to counting the costs of mining and hardly counting any benefits.
By Mukasiri Sibanda
Weighed down by a plethora of legacy issues- disregard of Free Prior Informed Consent (FPIC), water pollution, and no tangible community benefits from diamond extraction, can Zimbabwe Consolidated Diamond Company (ZCDC) deliver on its vision "to be a world-class diamond producer for the long-term benefit of Zimbabwe."
With the depletion of Marange alluvial diamonds, is there any glimmer of hope for conglomerate diamond mining? Can ZCDC, a government-owned entity fair differently from another state-owned enterprise on corporate governance? What measures are being put in place to maximise national benefits from diamond mining? What is at stake for the communities affected by diamond mining activities? Is there a change in transparency and accountability in the management of Marange diamonds? Is military-linked Anjin on its way back?
To help to connect the dots, this report is a summary of key developments related to diamond mining in Marange observed by Zimbabwe Environmental Law Association (ZELA) during the EU delegation of Ambassadors visit to Marange on 20 April 2018.
A timeline of key events which discoloured Marange diamonds
To start with, DeBeers' involvement in seemingly unending diamond exploration activities in Marange is marred by allegations of massive diamond looting. DeBeers though is refuting the allegations. In 2006, there was a chaotic diamond rush which attracted thousands of artisanal miners; led by the army, the infamous "Operation Hakudzokwi" (You will not return), a violent crack on artisanal mining took place in 2008.
After the displacement of artisanal miners, government-arranged several joint ventures entities to extract diamonds between 2009 and 2010. The contracting process was opaque. From close to 1 million carats in 2009, diamond production peaked to slightly over 12 million carats in 2012, Zimbabwe becoming the fourth world largest producer of rough diamonds after Russia, DRC and Botswana. Yet, peak diamond production did not commensurately result in increased tax contribution.
In 2015, the former President, Mugabe intimated that Zimbabwe lost $15 billion in revenue from Marange. Zimbabwe Consolidated Diamond Company (ZCDC) commenced its operations in 2016 after the closure of all seven companies that were operating in Marange.
About ZCDC
Rob De Pretto, ZCDC's new chief operating officer who has 32 years of mining experience led the presentation on strategic developments at the entity. Formed in March 2015, ZCDC started its operations a years later in February 2016. Register under the Companies Act, as a private entity, the company is 100% state-owned. Reserve Bank of Zimbabwe (RBZ) is funding ZCDC operations through an $80 million support facility. Currently, ZCDC is mining diamonds in Chiadzwa and Chimanimani through its a special grant covering 755,000 hectares.
ZCDC's vision is to be a world-class diamond producer for the benefit of Zimbabwe. Because alluvial diamond mining activities are no longer economically viable, ZCDC has transited from alluvial diamond mining to conglomerate diamond mining. A development that pushes upwards production costs per tonne compared to ZCDC's predecessors which were extracting alluvial diamonds. ZCDC alleges that the past diamond mining companies never carried out any exploration activities. A lot of drilling is therefore needed to evaluate the diamond resources.
Alluvial diamonds depleted, is there hope for conglomerate diamond mining in Marange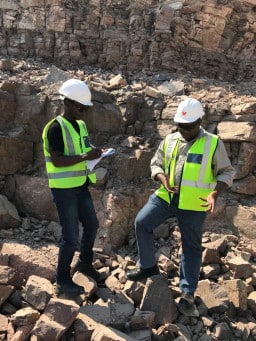 Previous diamond mining companies did not carry out any meaningful exploration activities. Considering that alluvial diamonds are diminishing, ZCDC is undertaking exploration work on conglomerate diamonds to evaluate diamond resources with a view of increasing the resource value. ZCDC has expanded exploration work beyond Marange and Chimanimani to include Mwenezi, Chihota, Kezi and Binga. In its 5-year strategic plan, ZCDC aims to produce 10 million carats generating $1 billion foreign currency, contributing $250 million in taxes to government, employing 8,280 workers and paying $20 million to Marange-Zimunya Community Share Ownership Trust (CSOT).
Diamond mining activities
In 2016 and 2017, ZCDC annually produced 961,537 and 1,776,244 carats respectively. However, ZCDC aims to produce of 10 million carats annually by 2022. This year, ZCDC's target is 3 million carats. Averagely, 10 to 15% of diamonds mined in Chiadzwa are gem quality stones.
The average diamond recovery is rate is 50 carats per 100 tonnes, translating to 0.5 carats per tonne. At one of its sites named RBZ due to its high yield, it is possible at times to recover 300 carats per 100 tonnes, about 3 carats per tonne.
The search is still on for the source of Marange alluvial diamonds in Marange which were a result of erosion by glaciers and rivers thousand years ago. Kimberlite pipes have not been discovered in Marange, but conglomerate diamond mining is quite promising.
All this is a stark warning, without discounting efforts to search for the missing $15 billion in Marange, Parliament and the public must not drop the ball on transparency and accountability issues concerning ongoing operations in Marange.
Getting funding for greenfield exploration. Kimberlite pipes have not been found in Marange. ZCDC is out in the country searching for the source of diamonds that we eroded and weathered by glaciers and rivers. Where these diamonds got eroded we still do not know. Exploration is done in Katete, Ngulue and Mwanezi. We aware that Venetia, one of the biggest diamond mines in SA, Venetia owned by DeBeers is operating 20 km of the border between South Africa and Zimbabwe,
Rough diamond sales: Cleaning, Sorting and valuation
To gain maximum value from diamonds mined in Marange, ZCDC ensures that there is adequate cleaning to remove the oxide skin coating, a process that pushes some diamonds into gems diamond bracket. Most probably, the accounts for one of the reasons why diamond mining activities failed to deliver optimal economic, this does not discount the impact of criminal activities like deliberate undervaluation, under-declaration and smuggling of gem-quality diamonds, high valued stones.
In line with the Africa Mining Vision spirit, Botswana, a mature diamond producer and marketer is assisting Zimbabwe on diamond valuation. Realising that the price of rough diamonds was depressed in 2017, ZCDC took a strategic decision not to dispose of its diamonds in that period.
This practice is similar to stock market trends, a shareholder gains when he or she disposes of shares when the share price is firming than at a time when the share price is depressed.
So far, this year, 2 diamond auctions have been held in Harare fetching an average price of $80. Aside from disposing of diamonds through auction, ZCDC is also considering the tendering system.
The tendering system can be effective if it is used to adjust rough diamond prices after valuation to prepare an effective auction system, in this case, the minimum value sought would be established.
As per legal requirement, 10% of the diamond produced is sold locally to stimulate domestic cutting and polishing industry.
Illegal mining activities
Illegal mining activities are still a challenge because some community members were not relocated and still within diamond mining concessions. As a result, illegal diamond mining activities are a major challenge. To solve this challenge, ZCDC is planning to use drones to monitor illegal mining activities to give real time intelligence to security offers. The drones have night vision equipment. Roughly every drone costs $150,000. 3 competent pilots have been recruited to operate the drones.
ZCDC intends to acquire free hands equipment for diamond sorting. The current diamond sorting procedure is inefficient and creates opportunities for manipulation.
Contribution to Community Development
ZCDC's employment policy gives preference to locals from Manicaland, hence locals constitute over 50% of ZCDC's total employees. The entity allocates 10% of its profits to Marange Zimunya Community Share Ownership Trust. Several community development projects have been
undertaken by the entity which includes borehol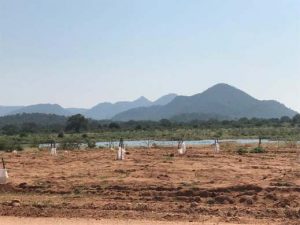 e installations, vocational training centre, Gandauta secondary school upgrade, free tillage, scholarship programs for students and gemmology centre in Mutare among others.
Environmental Rehabilitation and Mine Closure
Rehabilitation activities being undertaken by ZCDC: picture courtesy of Nyaradzo Mutonhori
Encouragingly, ZCDC has started to rehabilitate some area that was mined by previous diamond mining companies. So far, the company has rehabilitated close to 25 hectares. The company claims that is now fully compliant with the requirements of the Environment Management Act. Levels of water pollution, dust pollution and vibrations from blasting activities are being checked on quarterly basis together with the Environmental Management Agency.
Chinese presents at former Anjin diamond mining concession
The Chinese are on the ground at former Anjin's diamond concession. A fresh fence has been erected around Anjin diamond concession and the air strip has been cleared. ZCDC appears to have no control of Anjin's concessions. Could it be that the army who lead operation restore legacy are clearing the ground for Anjin's come back given their 40% stake in the concerned entity? Anjin is one of the companies who are at the heart of squandering Marange diamond wealth. The Auditor General lamented that Anjin failed to produce its audited financial statements and the former Finance Minister, Tendai Biti singled out Anjin for not contributing taxes to the government.
Way forward
The quest for better transparency and accountability gave birth to ZCDC. To achieve this, ZCDC must do more to break away from opaqueness associated with Marange diamonds. This entails among others publication of CDC's annual reports on its website; public release of disaggregated data on rough diamonds produced, that is gem, semi-precious and industrial diamonds, the disclosure of various taxes paid to various government institutions and disclosure of costs per CSR project.
ZCDC made interesting presentation concerning its contribution to the community development. There is need for Community Based Organisations to undertake social audits to verify if indeed 50% of ZCDC is from the local community. The social audit should also ascertain the value of corporate social investments undertaken by ZCDC to check value for money. Impacted mining communities should pressure ZCDC to transfer 10% of its shareholding to Marange Zimunya Community Share Ownership Trust as well as the disbursement of 10% profit to the community trust.
Since ZCDC alleges that alluvial diamond mining is no longer economically viable, there is need to demarcate areas where artisanal and small-scale miners can make use of diamond resources that are not ideal for large scale mining.
The government must make sure that companies like Anjin associated with the squandering of Marange diamond wealth must not resurface to show commitment on fighting rampant corruption and illicit financial flows in the mining sector.
It is noteworthy that officials from Ministry of Mines were not present during the field visit unlike last year in January, the then permanent secretary of Mines, Professor Gudyanga showed signs of baby seating ZCDC during Parliament visit to Marange. Honourable Minister Chitando and his team must cushion ZCDC from political interference because diamonds are a tempting resource for greedy politicians.