Visually impaired Mandlenkosi Sigola (52) who resides in Ntabamhlope village, Umzinganwe district, pats the water tap outside his house affectionately.
"This tank to me is what a bank is for most people. I draw out water from it judiciously and only when absolutely required," he says.
Next to him is his wife, Mothabolog Sigola (45) who vividly remembers the time when she spent most of her day time trudging long distances to fetch water for the household's needs.
"Those days, we had no clue about issues like sanitation or hygiene and open defecation was a common practice," she recalls.
The installation of the tank and piped water near the Sigolas home has finally enabled Mothabolog to do something that she never thought she would ,spend time with her husbands and ensure that they understand the importance of living in clean, hygienic environs.
"Before the piped water, i could not spend time with my husband as i was always out of the home looking for water. I could also not leave him alone for day because he could not fetch water on his own, but through this piped water scheme, i can fetch s much as possible and stock it up in the jerrycans we got from UNICEF, through funding from the Republic of Korea," said Mothabolog Sigola.
"Water scarcity was a critical issue in our village even before I settled here.This project has not only significantly improved our lives, but it has given women a platform to speak out openly about their problems, which is a first for us," she reckons.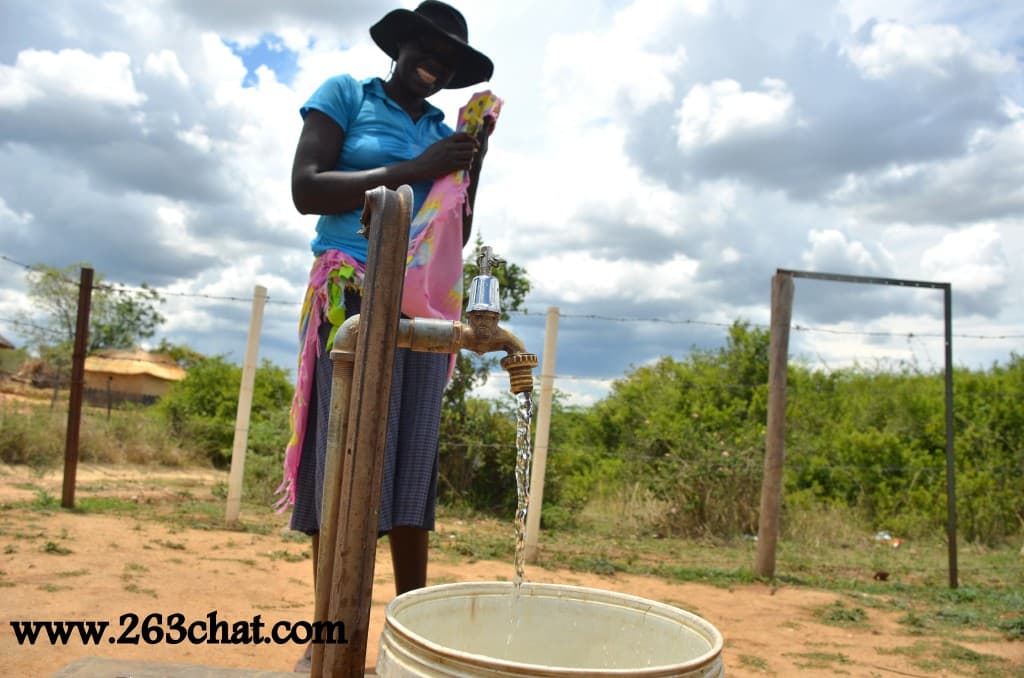 this is one of the two water schemes that are currently being rehabilitated in Umzingwane.
For Florence Dube, who lives with her 16 year old daughter,in Eskovheni, the days of fearing for the safety of her child's safety as she goes to fetch water early in the morning and late at night after school, are long gone.
They literally have water on their doorsteps.
"I always thought my daughter would be attacked by thugs on her way to fetch some water at the nearest borehole, which is about 5 kilometers away. There are thugs in the area and the safety and it would be a relief to see her coming back home safe.
"But with the piped water ,we have water in our homes ,we don't have to fear for the security of our daughter. we can easily access water and thus improving or health and sanitation, " said Florence Dube.
Zimbabwe recently experienced a shift from a drought to flooding due to excessive rains throughout the country fro  the 2016/17 rain season.
The heavy rains were accompanied by severe flooding and among the most affected areas was Umzingwane, in Matabeleland leaving more than 4 700 households without access to safe water in the 5 affected wards.
Nearly 10,000 people in  the country's 10 districts which were heavily affected by floods, don't have to worry about walking long distances to arrange water for household chores any more thanks to funding from the Republic of Korea that has necessitated the provision of safe water.
There is an increased risk of water and vector-borne diseases including cholera, typhoid , diarrhea and malarial.
Provision of safe drinking water, sanitation and hygiene continue to be major issues for the affected people in the area.
The project which is in its final stage of implementation, will restore access to safe and adequate water through rehabilitation and or upgrading two community piped water scheme which will enable inclusive access to water by people with disabilities and contribute to release more time to attend to other critical income generating household chores.
Audrey Ziro,, WASH Emergence Coordinator for World Hunger Welfare said told 263Chat that  "Upon completion, the project will have significantly improved water supply service delivery, strengthened the capacity of water supply institutions, and enhanced the financial sustainability of water supply operations."
She said the repairing of the two old schemes will be powered by solar with a capacity to pump 6000 liters of water per hour.
"We previously had the old schemes which had dilapidated due to vandalism. The other one was diesel powered and the community could no longer afford the expenses of buying the diesel hence they abandoned it.
"The other one which is also being repaired , was powered by electricity but due to the expenses in acquiring electricity, the villagers ended up abandoning the schemes and it was lying idle for quite some time, which had led people to get water from unprotected sources hence putting them at risk of being contaminated with water-borne diseases," said Ziro.
To date, the funding from Korea, has reached more than 11 600 people with hygiene messages including prevention and reduction of diarrhea diseases and pneumonia.
The rain season will be welcome for the district, but a repeat of last season's floods, will be a step in the wrong direction for people who are still reeling from the destruction trail left by the floods.