Day in day out, Chipo cries as she gets beaten up and abused by her own belligerent employer, Mr Peter Vela who has since turned her into a sex slave at Dost farm in Mpumalanga province in South Africa. As she sits on the threshold of an antiquated house, a monstrosity with peeling paint, a sagging porch, creaking doors and dirty opaque windows, she fails to come to terms with the daily horrific sessions of sexually satisfying her ruthless boss and his henchmen.
By Silence Gwande
Surmounted by the traumatizing effects of rape coupled by her deteriorating health with irreparable emotional, physical and psychological damage, the 28-year-old mother of four sobs and whimpers despondently as she is literally at nadir of hope.
"I thought the abuse was not going to last for a long time but it is almost nine years now. I have nowhere to go and if I resist I risk being thoroughly beaten and subsequently losing my job", says Chipo as she nurses her visibly malnourished four-month-old daughter.
Downhearted and disheartened by seemingly ineluctable situation that has all but shattered her hopes, tears begin to flow down her cheeks as she stared helplessly at her abnormally famished children who were jostling for rotten oranges disposed of in a smelly bin located at the back of the house.
Chipo who comes from Chivi District in Masvingo province left the country for South Africa in June 2008 during the peak of political instability following destruction by arsonists that completely burnt down her home and livestock leaving her with nowhere to sleep.
"When I came here I thought I was going to live peacefully and will be able to send money back home to help my two children whom I left in the custody  of my 84-year-old grandmother after we were left homeless by these political activists  who burnt down my house and livestock", she said.
"I am being abused simply because I fear to lose my job and also if I resist, I may just be killed or kicked out of this place and further worsen my plight".
Unplanned migration places majority of such people, especially women at a greater risk of contracting STIs as they are sexually and physically abused by their employers. Some have ventured into full time prostitution following years of sexual abuse perpetrated on these hapless women by their employers.
Another Mozambican migrant, also a victim of rape who lives a considerable distance from Dost Farm where Chipo is employed, said a Zimbabwean who was being sexually abused by the farm owner has since ventured into prostitution  resulting  in breakdown of her marriage  and subsequently contracting HIV.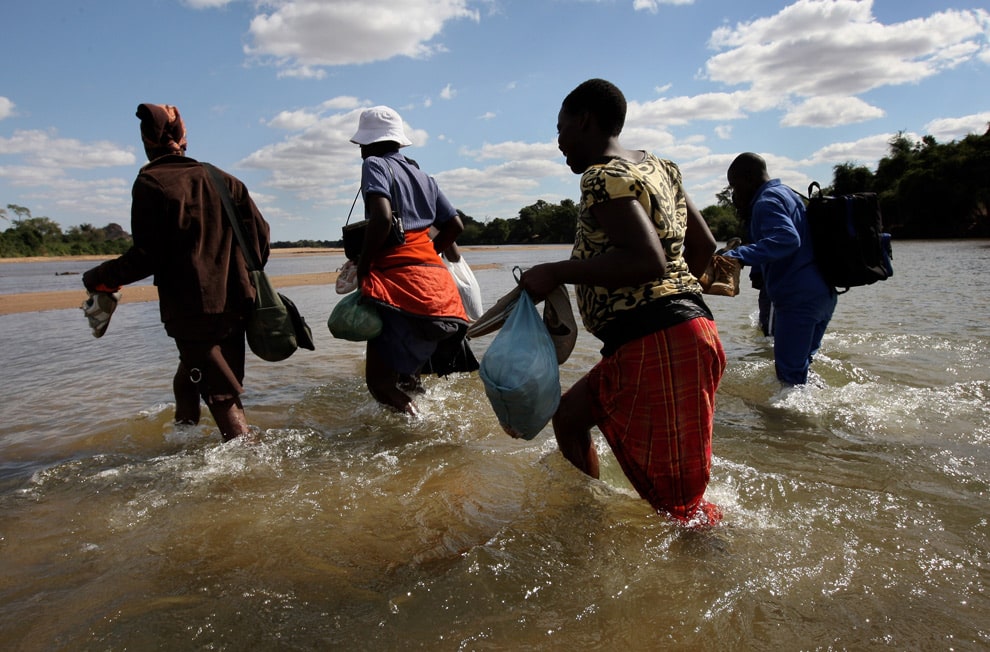 "It all started from being sexually abused on my way to South Africa when I was gang raped by six men in full view of my husband. Two of them went away with my husband saying they want to give him a job and I was left with four men who took me to a place that I don't even remember at all. I was locked in a dark room where the men would come and rape me as they wished", says Ruth who has two children born as a result of sexual abuse and were both with HIV.
"I was then dumped by the road side in Mpumalanga province where I was met by the Good Samaritan who took me to a farm where she stayed and I started recuperating there till I became fit to work for myself on the farm", she said.
Ruth says she left her country after her husband got fired from the company he worked for leaving them to beg on the streets with no money to send children to school. This, according to Ruth, forced them to look for greener pastures in South Africa though they did not have passports to legally cross the border.
The only option was to jump the border which plunged the couple into jeopardy. High level stress that came as a result of sexual abuse resulted in alcohol abuse by Ruth to efface those memories.
"I was so devastated when I discovered that  I had contracted HIV a virus that causes Aids and because there was no counselling that happened,  I eventually ventured into prostitution", she said  as she wiped  tears that were  streaming down her cheeks.
"We are forced to abort because we have no stable financial means to look after our children especially those who were born as a result of this abuse. The other factor is that we don't engage in protected sex due to limited access to condoms at these places leaving us at a greater risk of contracting STIs", explained Rudo, a 17-year-old mother of two who also  lives at Dost Farm where prostitution has apparently become so rampant.
"The problem is we have nowhere to report the abuse because we don't even know where the police station is and how to get there, we are too far away even from the main road and even if we know how to go about these issues, we have no passports or identity particulars. We fear getting arrested and then get deported back to poverty leaving our children here without anyone to look after them."
According to Human Rights Watch, unplanned migration is triggered by interplay of factors including among others, political, economic, social and familial. Some have fled their countries owing to unemployment and lack of other basic human rights.
Migrants are facing gross human rights violations including denial access to fundamental rights such as the right to education or the right to health which is mostly linked to discriminatory laws and practice according to Lawyers for Human Rights.
The International Organization for Migration (IOM) Zimbabwe launched a four year IOM Zimbabwe Strategic Plan (2015-2018) to set out the cooperation agenda between the IOM, the Government of Zimbabwe, development partners, United Nations agencies, civil society organizations on migration management.
Southern Africa Development Community (SADC) member states as well as aid agencies concur that protecting and assisting migrants is "our collective responsibility".
"We must join efforts to respond to crises impacting migrants to save lives, increase their protection, decrease their vulnerability and improve targeted assistance", said Bogdan Danila, Emergency and Post-Crisis Specialist with IOM's Regional Office for Southern Africa recently at the conference in Pretoria, South Africa.
UN Deputy Secretary General Jan Eliasson has been quoted saying that migrants need to be protected: "We need to take greater responsibility for protecting the lives of many thousands of migrants – men, women and children who are compelled to undertake dangerous and sometimes fatal journeys. Those forced to flee should never be denied a safe haven. Migrants, as all people deserve protection and empathy."
The 2030 Agenda for Sustainable Development adopted by world leaders at the United Nations stresses the multidimensional reality of migration.
The agenda calls on countries to implement planned and well managed migration policies, eradicate human trafficking, respect the labour rights of migrant workers and to reduce transaction costs of migrant remittances. The Agenda also highlights the vulnerability of migrants, refugees and related humanitarian crises that threaten to reverse much of the development progress made in recent decades.
The number of international migrants reached 244 million in 2015  around the world as which translates to  a 41 percent increase when compared to 2000, according to United Nations. The probability that the number has increased to date is high given the conflicts and disasters that are afflicting most continents especially Africa.