The Bulawayo City Council (BCC) needs over $700 million to rehabilitate the city's road network which is in a poor state due to years of neglect.
The bulk of the city's 2,075 kilometre road network has not been rehabilitated due to financial problems and shortage of equipment.
However,  this might change for the better as the local authority Tuesday commissioned its new plant equipment and also launched its road rehabilitation programme in Gwabalanda suburb.
Speaking at the event, the City Mayor Councillor Martin Moyo said the new equipment will asset the city in its road rehabilitation, reconstruction and servicing of stands programmes.
"The city of Bulawayo has a fleet of 22 plant and most of these are over 20 years old and have been constantly breaking down. The purchase of the plant by the City of Bulawayo, this year is a milestone in a bid to cater for its needs in road rehabilitation, reconstruction and servicing of stands.
"This will also reduce costs for the city of Bulawayo and ensure that we try and carry out the necessary projects towards the development of our city," said Councillor Moyo.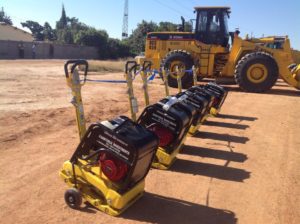 The plant which cost the local authority $1,087,727 include one front end loader, two grader, two roller, one dozer, one excavator and six plate compactors.
The city is also awaiting the delivery of two vibratory rollers, six tipper trucks, four water bowsers and two compressors.
Councillor Moyo said 70% of the city's road network is need of rehabilitation.
"Seventy percent of the city's road network of 2,075km is in poor condition. According to the road condition survey carried out in 2012, $700 million is required to bring the entire network to good or better condition. 354km of the total network requires immediate rehabilitation.
"The road rehabilitation plan for 2015 involves road reconstruction, overlays, reseals and regravelling in addition to the routine maintenance activities," said the mayor.
This year the local authority is targeting to rehabilitate 56 kilometres of the road network at a cost of $5,129,836.
Councillor Moyo said a good road infrastructure will promote economic growth and social development in the city.