Former President Robert Mugabe has died, he was 95. Mugabe died at a Singaporian hospital after a long illness.
He is survived by his wife, Grace and three children.
Recently, President Emmerson Mnangagwa assured the nation that the former ruler, was recovering well, however, urging the nation to pray for him.

He has not been seen in public since his last address on July 30 2018, on the eve of the elections where he vowed that he will not vote for his tormentors.
Since then, a few family pictures of his pictures have been leaked to the public, with the most recent one showing a frail-looking Mugabe on a wheelchair with his son, Robert junior.
After being deposed in a military takeover in November 2017, Mugabe made fewer public statements and appearances and controversially, threw his weight behind opposition leader, Nelson Chamisa during last year's elections, dumping his longtime stalwart, Mnangagwa who orchestrated his downfall.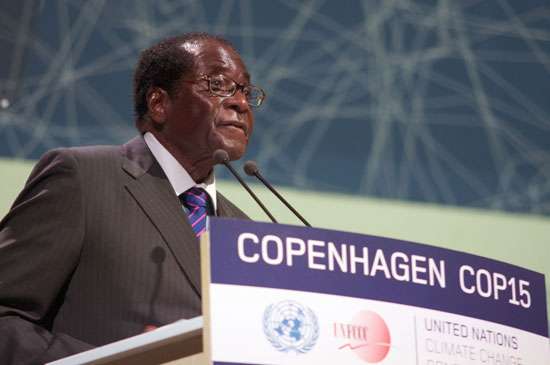 His wife, Grace, in 2017 famously declared that he would rule from his grave as he was the only one "fit" to rule the country.
However, as time went on, Mugabe's health became a cause for concern as he would be seen struggling to walk.
This became one the opposition's trump card as they called for his removal from power and during the Zanu-PF factional fights, the Lacoste camp, led by war veterans, called for his removal from power as they said he was not fit to lead the nation.
Background.
Born on 21 February 1924, Mugabe was the longest-serving President of Zimbabwe, serving since 22 December 1987.

As one of the leaders of the rebel groups in opposition to white minority rule, he was elected Prime Minister in 1980, serving in that office as head of the government, until 1987, when he became the country's first executive President.
He had led the Zimbabwe African National Union-Patriotic Front (ZANU–PF) since 1975.
As of November 2017, he was the world's oldest and one of the longest-serving Head of State.
Mugabe rose to prominence in the 1960s as the leader of the Zimbabwe African National Union (ZANU) during the conflict against the conservative white-minority government of Rhodesia.
Mugabe was a political prisoner in Rhodesia for more than 10 years between 1964 and 1974.
Upon release Mugabe, along with Edgar Tekere, immediately left Rhodesia with the assistance of Rekayi Tangwena in 1975 to launch the fight during the Rhodesian Bush War from bases in Mozambique.
At the end of the war in 1979, Mugabe emerged as a hero in the minds of many Africans.
He won the general elections of 1980 after calling for reconciliation between the former belligerents, including white Zimbabweans and rival political parties, and thereby became Prime Minister on Zimbabwe's independence in April 1980.
In 1982 Mugabe sent his North Korean-trained Fifth Brigade to the ZAPU stronghold of Matabeleland to smash dissent. Over five years, 20,000 Ndebele civilians were killed as part of a campaign of alleged political genocide.
In 1987 Mugabe switched tactics, inviting ZAPU to be merged with the ruling ZANU-PF and creating a de facto one-party authoritarian state with himself as the ruling president.
Mugabe The Dictator.
During the 1990s Mugabe was reelected twice, became a widower and remarried his former secretary, Grace Marufu who many blame for his dictatorial tendencies due to her love for power and lavish life.
In 1998 he sent Zimbabwean troops to intervene in the Democratic Republic of Congo's civil war, a move many viewed as a grab for the country's diamonds and valuable minerals.
The move led to social unrest and strikes, and in November 1998 riots occurred following Mugabe's announcement that he and members of his cabinet would receive pay increases.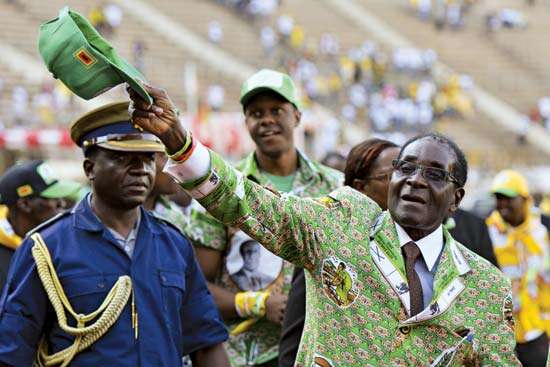 Factions within ZANU-PF continued to press for a true multiparty system. The first real opposition to Mugabe's government came from the Movement for Democratic Change (MDC), formed in September 1999 and led by trade unionist Morgan Tsvangirai.
In the parliamentary elections of 2000, the MDC won about half of the contested seats, but ZANU-PF won or controlled most of the remaining seats and thus maintained firm control of Zimbabwe.
Meanwhile, war veterans, demanding immediate land reforms, threatened to occupy some of the country's white-owned farms.
Mugabe showed sympathy for their cause, doing nothing to dissuade them. In the months leading to the 2000 parliamentary elections, the veterans acted on their threats, which led to heightened tensions in the country.
In 2000 Mugabe organized a referendum on a new Zimbabwean constitution that would expand the powers of the presidency and allow the government to seize white-owned land.
Groups opposed to the constitution formed the Movement for Democratic Change (MDC), which successfully campaigned for a "no" vote in the referendum.
Although Mugabe was reelected in 2002, the elections were tainted by violence and criticized by observers. A law passed later that year allowed Mugabe to pursue an aggressive program of confiscating white-owned farms; more than half of the country's white farmers were forced to relinquish their property.Unfortunately, the property was often claimed by politically connected individuals with little or no farming experience.The government's lack of forethought in forcing out the white farmers and failing to replace them with experienced farmworkers contributed to a significant decline in agricultural productivity; this, as well as a drought, led to severe food shortages in Zimbabwe.As Mugabe's popularity further declined, his regime became increasingly brutal and repressive.
Media freedom was curtailed, the opposition was harassed and beaten, and a controversial program that caused the demolition of illegal housing structures was implemented, rendering hundreds of thousands of Zimbabweans homeless.The economy continued to decline, and in 2007 the country had the highest rate of inflation in the world, as well as one of the highest rates of unemployment.Most Zimbabweans did not have adequate access to basic commodities, such as food or fuel, and Mugabe's administration continued to be the subject of much international criticism.Despite this, Mugabe remained popular within ZANU-PF, and in December 2007 the party endorsed Mugabe as its presidential candidate in the 2008 elections.
The End of An Era.
Mugabe's long reign came to a crashing end in November 2017 after the army intervened to oust him. He was replaced by his long-time lieutenant, Emmerson Mnangagwa.
On November 15, 2017, the Army in an apparent coup d'état placed Robert Mugabe under house arrest. Thereafter on 19 November, he was removed as the leader of ZANU-PF.
An impeachment proceeding was started against him. Following the start of impeachment proceedings, Mugabe resigned as President on 21 November 2017 signalling an end to a long protracted rule.