Many people who attended the Zimbabwe National Chamber of Commerce (ZNCC) Midlands Business Awards have questioned the criteria used to award Zimbabwe Alloys the Exporter of the Year Award at a time when little or no production could be witnessed at the company's Heavy Industrial Sites-based chrome processing plant.
Reacting to murmurs of protests last Friday night after the company had been announced as the winner, Reserve Bank of Zimbabwe officials who had been called to hand over the award were quick to intervene, saying it was them who had provided the ZNCC with the figure of who exported what.
"I am made to understand that ZNCC worked with statistics, and ZimAlloys came out tops," defended the Master of Ceremony (MC), Babongile Sikhonjwa, a popular event emcee, comedian and club DJ.
Zanu PF ward 12 Councillor Charles Simbi, who was acquitted of teen rape charges last week, was another surprise winner, coming out as one of the record nine runners-up in the Small Scale Miner of the Year category.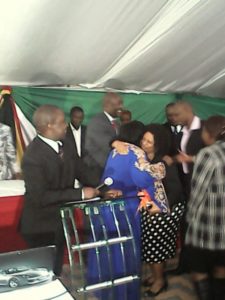 Apart from the surprise winner, regulars such as Smelly Dube of River Valley Properties, Anthony Clever Pote, and Tinashe Manzungu of Tinshel Properties scooped the Businesswoman of the Year, Businessman of The Year  and First Runner-Up respectively. Those who attended the event, held at The Village Lodge in the Midlands capital, also felt that Chrispen Thomu of Nice Time Supermarket was now more of an urban entrepreneur, as opposed to the Rural Businessperson of the Year award he won.
'Tomy' was named as the top brand, while the Bata Shoe Company, which manufactures the canvas shoes was recognised for its community development initiatives. Last month Vice President Emmerson Mnangagwa officially opened the new Sarah Bata High school at the Bata Estate. The school became the second within the complex after Bata primary. The company's efforts to empower women by sub-contracting them to hand-make shoes were also without fail.
Multiple award winner Antelope Park, boasting of 30 international and national hospitality plus conservation trophies in the past five years, was voted as the Best Hospitality Facility in the province. Hosts The Village Lodge were runners-up.
TelOne's extensive marketing efforts were rewarded when the government-owned company was named the Most Outstanding Parastatals Award. Of late the company has been connecting subscribers and broadband consumers timeously for next to nothing, while their wireless fidelity (Wi -Fi) rates have been commendable, making the company stick ahead of competition.
As in the previous year Mimosa Mining Company was named Corporate Social Responsibility Organisation of the Year, with Unki Platinum coming second. The companies captains, Winston Chitando and Walter Nemasasi, were separately rewarded for steering the industrial ships.
Speaking at the event, past ZNCC president Trust Chikohora commended local companies for flying the Midlands flag the highest.