Harare Metropolitan Eagles – 92 all out in 35.1 overs (Gary Chirimuuta 17, Jalat Khan 15, Kudzai Maunze 13; Graeme Cremer 4/22, Michael Chinouya 3/25, Carl Mumba 2/28)
Midlands Rhinos – 183 for 9 in 48 overs (Bothwell Chapungu 63, Tafadzwa Kaitano 34, Tarisai Musakanda 25; Nathan Waller 5/22, Jalat Khan 4/55)
Stumps – Day 1: Midlands Rhinos lead by 91 runs with one wicket remaining in the first innings

Midlands Rhinos had the reigning Logan Cup champions Harare Metropolitan Eagles on the rack until tea on the first day at Kwekwe Sports Club today, after routing them for 92 and getting a good start to their own innings.
However, a dismal batting display by their middle and lower order cost them the overwhelming advantage that should have been theirs.
Most of the day was a combination of good bowling and poor batting, and the heroes of the day were all bowlers, apart from Bothwell Chapungu who scored a fine 63.
Mike Chinouya and Graeme Cremer for Rhinos, and Nathan Waller and Jalat Khan for the visitors, all turned in fine figures against batsmen who often gave in rather too easily.
Both teams were weakened by the absence of several first-choice players.
On a warm sunny day in Kwekwe, Eagles won the toss and decided to bat on a hot day, on a pitch that looked good for batting.
Chinouya, returning to the side after being surprisingly dropped for two matches, came steaming in to great purpose as usual, and his second delivery found the edge of Joylord Gumbie's bat and knocked back his off stump.
Unusually, Elton Chigumbura came in next to join Kudzai Maunze at the wicket.
The first run did not come until the third over but, just as the batsmen seemed to be settling in, Chinouya produced another superb delivery that moved away and uprooted Chigumbura's off stump.
He made eight, and Eagles were reeling at 11 for two wickets.
Sikandar Raza, still not fully fit after the leg injury he suffered during the Afghanistan series, came in next and used his skill and experience to resist the bowling, although Neville Madziva gave him some difficult moments.
Chinouya, Madziva and Carl Mumba formed a fine pace-bowling trio that made the batsmen fight for almost every run.
Chinouya came on again at the clubhouse end and with his second ball removed Raza for 12, as the batsman forced a ball into the covers, only to be caught, making the score 35 for three.
In the following over Eagles lost Maunze, who had fought hard to hold the innings together.
He called for a quick single to the off side, and his partner, Tino Mutombodzi, hesitated before sending him back, but he was now halfway down the pitch and beaten by the throw to the keeper.
Maunze made 13 and Eagles were now in considerable trouble at 35 for four, with both Mutombodzi and the new batsman, Gary Chirimuuta, still to score.
They struggled for runs, especially Mutombodzi, who made three off 27 balls before he decided enough was enough, rashly aimed a big hit at Cremer's first ball of the match, and skied a catch to mid-off; 47 for five.
At lunch the total was 55 for five, with Chirimuuta batting positively with 17 and Nathan Waller yet to score.
Two balls after lunch, Cremer struck again: Chirimuuta pushed forward tentatively at a leg-break and edged it into the keeper's gloves without addition to the score; 55 for six now.
Trevor Garwe decided to try to hit his way out of trouble, and scored two amid several unsuccessful attempts, but was then bowled by Mumba as he swung and missed again; 60 for seven.
Waller was next to go, for seven, as he swept at a ball from Cremer and lobbed a catch to backward square leg; 70 for eight.
Tanyaradzwa Munyaradzi decided to attack Cremer, and put a ball over long-on for six; off the next delivery he tried another big hit and skyed the ball over mid-off, who turned but could not hold a difficult chance.
Khan (11) was ninth to go, with the score on 82, edging a catch to the keeper as he tried to avoid a short ball from Mumba.
The innings ended at 92, when Munyaradzi, leaning back for another big hit, only swatted a catch back to Cremer, departing for eight; Taurai Muzarabani was left with six not out.
Cremer finished with four wickets for 22, while Chinouya, the man who began the crash, had three for 25 and Mumba two for 29.
It was a fine bowling performance on a pitch that took some spin but did not help the seamers much — although they found swing at times — but the batting was quite incompetent against good bowling, with Chirimuuta's 17 being the highest score.
When they went out to try to defend the indefensible, Eagles started with an attacking field of four slips, but Garwe and Muzarabani were unable to put the batsmen under the same pressure as the home team's seamers had done.
Chapungu had the unusual experience of being outscored by a partner, as the promising Tafadzwa Kaitano kept most of the strike and showed some impressive strokeplay as he took advantage of anything at all loose – he was particularly impressive driving through the covers.
The team fifty came up in the 12th over, of which Kaitano had 33.
He immediately had trouble with the left-arm spin of Khan, though, and on the stroke of tea was trapped lbw playing back to a ball that skidded through; he made 34 and Rhinos were 59 for one, Chapungu on 25.
After the break Tarisai Musakanda came out looking positive, while Chapungu began to open up, reaching his fifty off 47 balls during the course of an over from Munyaradzi in which he took 14 runs.
The same boundary that brought his fifty took Rhinos into the lead, and two balls later a further boundary brought up the hundred after 19 overs.
It took a superb catch to remove him, as he pulled a ball from Nathan Waller powerfully, only for Maunze to dive low to his left at square leg and pluck the ball out of the air.
Chapungu had made 63 off 56 balls, with nine fours, and the score was 114 for two.
Malcolm Waller had two early escapes, as he edged a ball between the keeper and first slip, and then skied a pull off his cousin Nathan that was dropped by the square-leg fielder.
But it did him little good, as he still only had four to his credit when a ball from Nathan took the inside edge of his bat on to the stumps; 131 for three.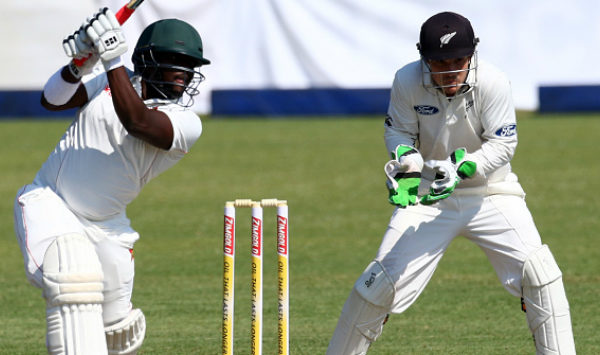 At the same score Musakanda (25) threw his wicket away, as he has been inclined to do in the Logan Cup recently; he sent up a skyer off Khan that was caught behind the bowler.
Eagles now went on the attack, closing in their field, while Cremer and Remembrance Nyathi tried to rebuild; the confidence factor was now with the visitors.
Cremer did not last long, making just two off 16 balls, unable to keep the score ticking over with singles as his opponents had been able to do.
He pushed at a ball from the accurate Nathan Waller just outside the off stump and edged to the keeper; 136 for five.
Nyasha Mayavo was next to go, for four – he tried a clumsy pull against Waller and dragged the ball on to his stumps, reducing his team to 140 for six.
Next to go was Nyathi, another unnecessary wicket, as he tried to turn a straight ball from Nathan Waller to leg and seemed disgruntled to be given out lbw for six; 146 for seven as the slide continued unabated.
Mumba edged Khan to the keeper without scoring, and the last six wickets had now fallen for just 17 runs.
Brandon Mavuta made nine to take the score to 156 before he was adjudged lbw to Khan, which brought in Chinouya to join Madziva.
Madziva became the first batsman after number three to reached double figures for Rhinos, and this was to be the first partnership to reach 10 after the fall of the second wicket, but he struggled to keep the board moving.
Chinouya kept up his wicket gallantly, and Madziva picked up a ball from Khan and drove it over long-on for six.
Against expectations, they were determined and skilful enough to survive the day, which finished with Rhinos 91 runs ahead of their rivals with one wicket left.
The lead is significant in a low-scoring match, but it could and should have been so much greater.
The Rhinos batsmen threw away their golden opportunity to bat the champions out of the match altogether.
Once you let a team like Eagles off the hook, they often come back to crush you, and Rhinos may well come to regret bitterly their spineless batting after tea.