Dutch Ambassador to Zimbabwe, Zambia and Malawi, Barbara van Hellemond presented awards to the winners of the Embassy's 2020 16 Days of Activism Against Gender Based Violence Campaign on Monday.
The awards, which carry a US$5.000 project grant for each winner, are aimed at recognizing and supporting men and women making Zimbabwe a better place for girls and women.
Winners are chosen via a public nomination process with a panel of high profile Zimbabwean judges selecting the final 16. In addition to the funding, each gender champion is celebrated through short videos, and access to various media and civil society platforms.

Media personality and women's rights activist Rejoice Nharaunda-Makawa was Chairperson of the 2020 judges.
"This campaign grew in 2020, with 1,140 nominations for 130 people made through email, WhatsApp and the 16days.co.zw website. Twenty-eight Zimbabwean cities, towns and rural districts were represented. Selecting the finalists from among so many amazing people was not easy, but these 16 all have extraordinary personal stories and a dedication to gender equality that can inspire us all," said Nharaunda-Makawa.
The winners are notable for their diversity, with men and women of different ages present, and projects using creative arts, sports, community engagement, women's empowerment in many sectors, health and counselling services provision and many more.
Champion Tsitsi Machingauta leads a network of traditional birth attendants working in high density areas around Harare, especially Epworth. The group was founded by Melody Nyakudanga in 2003 and has been supported by Soroptimist International, though resources remain limited. The judges chose Tsitsi because through her work, thousands of women unable to afford hospital births are able to safely deliver their babies. During the first six months of lockdown Tsitsi and her fellow birth attendants delivered 2,000 babies, often in difficult circumstances such as on roadsides, and always without adequate sanitary and medical equipment.
"Being a gender champion has raised the profile of our work, and given me a platform to connect with many other people working towards similar goals. The grant  from the Dutch Embassy will be used to ensure access to clean water for expectant mothers, as well as setting up an income generating project for women in the community," said Machingauta. She is in the process of raising support for the construction of a maternity hospital in Epworth.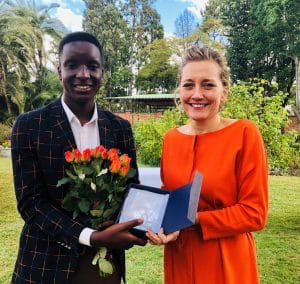 Tapiwa Bengewa who recently completed his A-Levels at Gokomere High School was chosen as a champion for his efforts to provide sanitary wear to rural girls in Masvingo province. Bengewa was delighted to be the youngest champion in the campaign's three year history.
"Menstruation and period poverty is a social issue, not just a woman's issue. I am proud to be recognised by the Dutch campaign. It has given me access to many other like-minded people and the grant has enabled me to vastly increase the number of girls getting access to pads. I am now getting these pads from a 2019 champion who is working with women in Chiredzi to sew them, so the network is also a powerful part of the prize," said Bengewa.
Speaking at the awards ceremony, Dutch Ambassador to Zimbabwe, Zambia and Malawi Barbara van Hellemond emphasized the importance of mainstreaming gender equality.
"At the current rate of change, it will take 150 years before we achieve gender equality. It is not good enough that at least five more generations of women will be held back by many of the same barriers that are here today. These 16 champions reflect the diversity of action and commitment to change needed to make sure that women are fully contributing to solving the many problems in the world. It is vital that women create, lead and benefit equally from solutions. And it is vital that men take up the role of allies, advocates and believers in an equal future," said van Hellemond.

The 2021 campaign is set to launch in August with a call for public nominations going out across social media and in the press.
Find out more about the gender champions and the Netherland's Embassy's 16 Days campaign by following @NLinZimbabwe on Twitter and Facebook.