Crazy Coincidence Or There Is More To The Zim-Afghan Game ?
as match raising stink
Brendan Taylor's first century since returning to Zimbabwe in September last year underpinned a crushing 154-run win over Afghanistan in the second ODI in Sharjah.
Taylor's 125 turbocharged Zimbabwe's innings as they racked up 333 for 5, having elected to bat first.
The chase was equally lopsided, with Afghanistan at one point in danger of losing by over 200 runs, before Dawlat Zadran cut the margin down with an unbeaten 47 at No. 10 – the highest score of the innings. It was still Afghanistan's second-heaviest ODI defeat.
The result, which brought the five-match series level one-all, was a direct reversal of the first ODI, which was decided by the same margin, with the same totals. On that occasion, Afghanistan had piled on 333 for 5 before Zimbabwe crashed to 179 all out.
Deja vu game?
Last game – Afghanistan 333-5 & Zimbabwe 179-10, Afghanistan won by 154 runs.
Yesterday Zimbabwe 333-5, & Afghanistan 179-10, Zimbabwe won by 154 runs. Perfect Revenge?
Another coincidence is the 47th over in the first innings of both matches, both of which had 3 no balls apiece. Spooky?
Match –fixing has become a widespread international problem in recent years.
It includes everything from bribery of players, to putting undue influences on the owners of the soccer clubs, managers, coaches and others who have the ability to affect the final scores.
As we wait for the match report from the cricket governing body, International Cricket Council (ICC) we take a look at post match reactions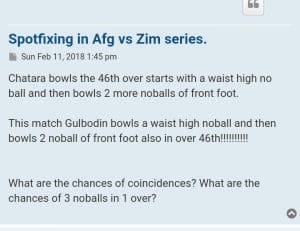 What about the no balls in 46th over of both games ????

— Will Maidstone (@Maido23) February 11, 2018
There are fears from the fans across the globe that the game might have been fixed.
"Never heard of such, the odds a close to 0…whilst u r on tht, u myt want to look at the fall of wickets in the two matches…
U never know, u myt find something interesting as well," said Munashe, a Zimbabwean.
Mother of Coincidence ????

Last game – Afghanistan 333-5 & Zimbabwe 179-10, Afghanistan won by 154 runs.

Today Zimbabwe 333-5,
& Afghanistan 179-10, Zimbabwe won by 154 runs.

Perfect Revenge ????????#AFGvZIM @ZimCricketv

— Lovejoy L-Jay Mtongwiza (@LJaymut10) February 11, 2018
i smell some match fixing allegations real soon.????????????

— tamara mutowa (@MutowaTamara) February 11, 2018
Somebody tell me we're getting into some book of records for this!!

— skar (@nikonashe) February 11, 2018
Father of match fixing rather

— Matthew_N_Kurima (@Kurima_M_N) February 11, 2018
Fixed matches are not that obvious hence they never go noticed. The idea is to mask a result without raising suspicion.

— Opinionated Introvert (@BenedictSikwazo) February 12, 2018
The difference is ZIM made it in 34.4 over while AFG all out in 30.1 over.@MazherArshad

— Nisar Ahmad (@Nisar_ahmad10) February 11, 2018