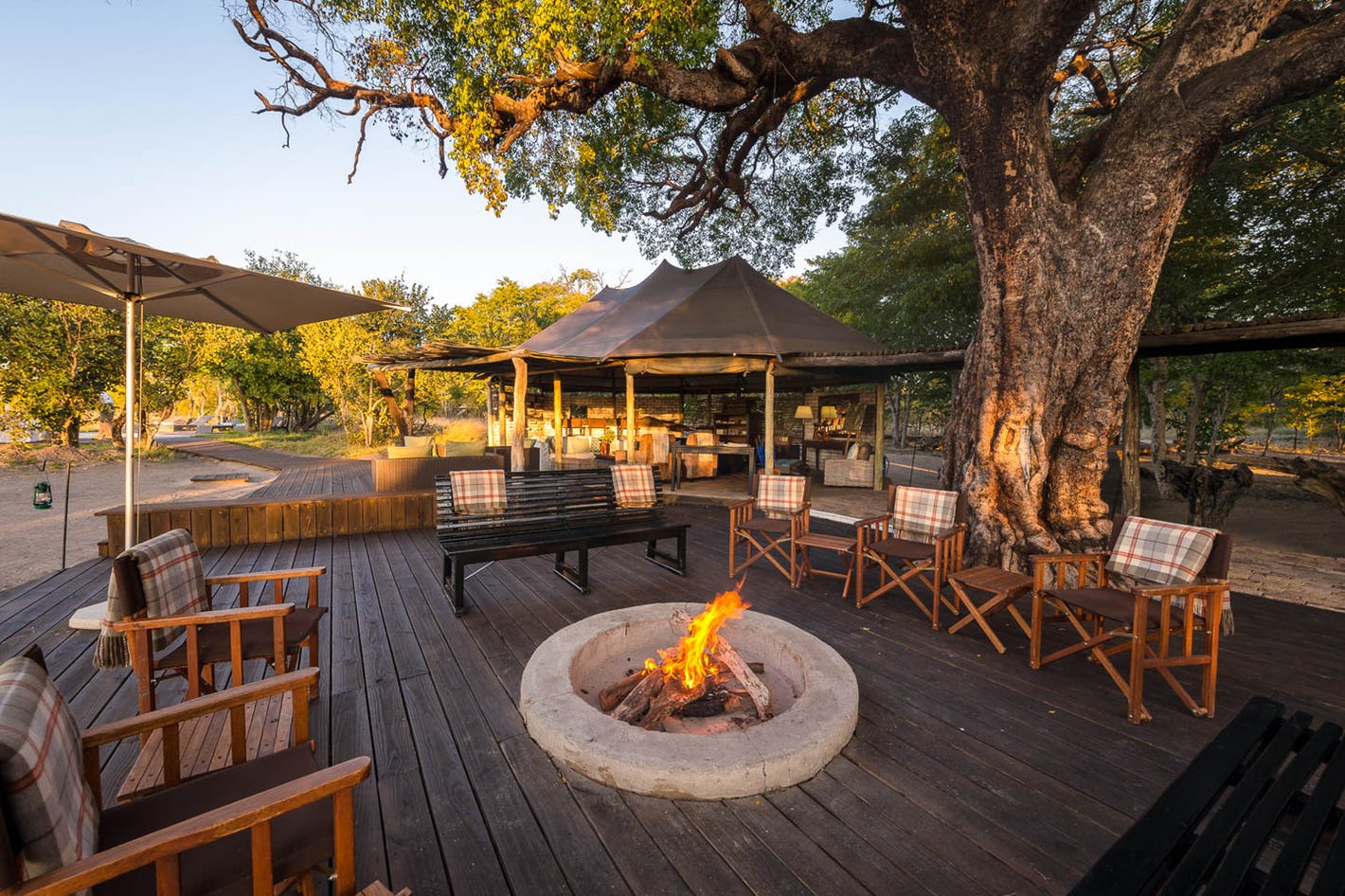 June 2018 – Wilderness Safaris' Little Makalolo – one of the original bush camps situated in an exclusive private concession in the heart of Hwange National Park in Zimbabwe – has reopened after the rebuild of its main guest area and an extensive refurbishment of its six traditional-style safari tents.
The new look of Little Makalolo was achieved in a subtle way to ensure that the camp retained the intimate and authentic bush feel of the original camp, which first opened in Hwange in 1998. Focusing on its remarkable wilderness location overlooking a vibrant waterhole, the new bar/breakfast area, pool deck and circular infinity pool have all been raised to offer uninterrupted views of the waterhole and the variety of wildlife that congregates there.
"We also kept the main area open on both sides and pulled the camp back to enhance the view of the waterhole and the magnificent false mopane tree in the centre of the camp, which now also forms a canopy over the main area", commented Dean Morton, Wilderness Safaris Zambezi Operations Manager. "From the minute our guests arrive, they can literally put their feet in the sand and be assured of the authentic bush camp offering that they have come to know and love at Little Makalolo."
The refurbished tents feature new floors, roofs, cladding at the back of the tents and locally-sourced interiors. According to lead interior designer, Caline Williams-Wynn from Artichoke, "Our inspiration for the interiors was drawn from the significant local culture, with the cosy feel of the rooms and the potted red-clay color used throughout simulating the homes found in the villages surrounding Hwange."
Handmade baskets have been used to create a striking feature on the paneled wall behind the bed. Each wall feature includes five different baskets, all made by local members of the Lupane Women's Centre – a non-profit organisation with 3 200 members from the Lupane District who are empowering themselves socially and economically. "We also used the pattern of the basket weave, which is prolific in Zimbabwe, in the curtains and the scatter cushions, not only emphasizing the homely village feel but also highlighting our commitment to Culture – one of the 4Cs of Wilderness Safaris' sustainability ethos", Caline added. Luxurious touches include copper basins and new copper hanging lights, which reflect the patterns on the curtains and literally light up the whole room.
Other elements in the new camp include table napkins and placemats sourced from the neighboring community, and new bistro chairs on the deck woven in potters-clay coloring. The main area also features beautiful new leather sofas and huge tree-trunk tables, big grass rugs and new pool loungers.
Guests visiting Little Makalolo are able to experience a range of incredible wildlife encounters on a variety of activities – from the log-pile hide to twice-daily game-drives, bush walks and the option to sleep out in the bush on a unique Star Bed.
"Little Makalolo has been one of our guests' favorite bush camps for over 20 years and we are thrilled to have made this investment to rebuild the camp, not only to ensure that we remain on the cutting-edge of pioneering sustainable and authentic ecotourism in Hwange, but also to showcase our ongoing commitment to Zimbabwe as a whole", Dean added. "Our life-changing journeys truly offer our guests the opportunity to travel with purpose and we hope that the new camp will remain a firm favorite of our repeat guests, as well as encourage more travelers to visit Hwange."