Breaking: ZERA In Dramatic U-Turn On Fuel Prices
Barely two hours after issuing a stern warning to fuel dealers not to increase fuel prices, the Zimbabwe Energy Regulatory Authority (ZERA) has made a dramatic u-turn and issued a statement approving fuel increases by fuel operators.
Earlier this morning, ZERA had said it would send police officers to monitor against fuel increases at service stations only for them to backtrack and approve the fuel increase.
In the newly approved prices, diesel now goes for $4.89 per litre while petrol is selling at $4.97 per litre.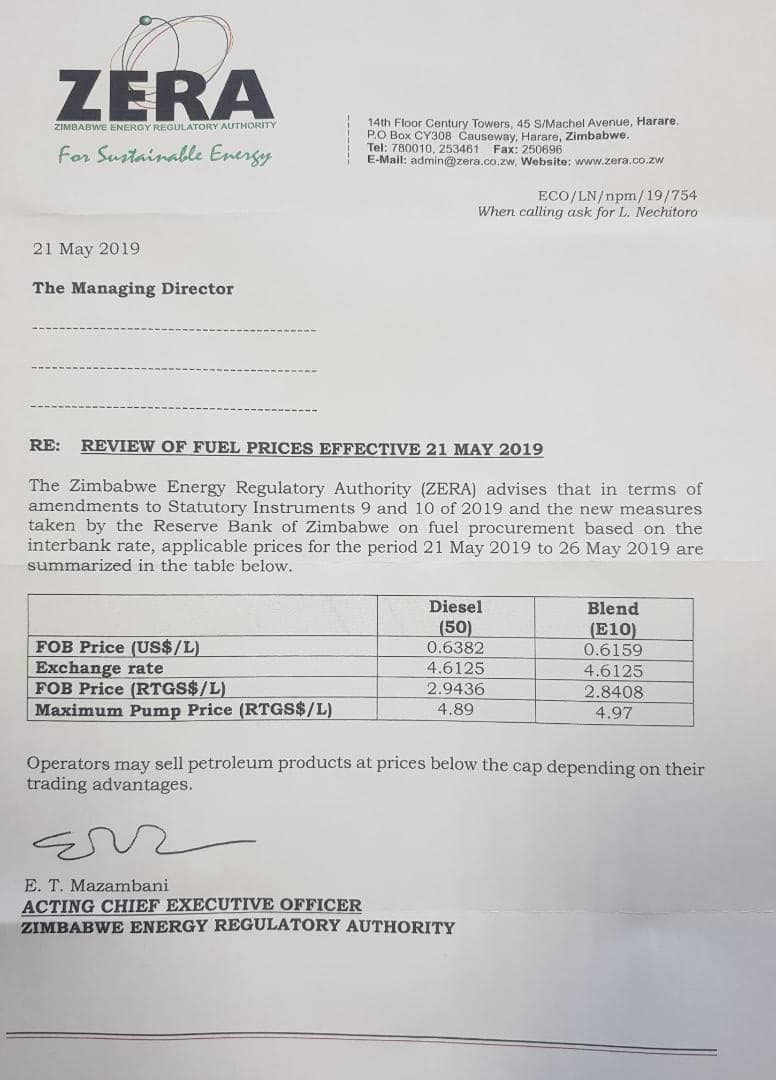 ZERA Communications Director Gladman Njanji said the move is "guided by the RBZ statement" which was released yesterday.
Reserve Bank of Zimbabwe (RBZ) Governor Dr John Mangudya yesterday said the move sought to promote the efficient use forex and to "minimise and guard against incidences of arbitrage" in the economy.
"The Reserve Bank of Zimbabwe is pleased to advise the public that with effect from 21 May 2019, the procurement of fuel by the Oil Marketing Companies (OMCs) shall be done through the interbank foreign exchange market," said Dr Mangudya.
"There shall be only one foreign exchange rate to be used in the market for the importation of all goods and services. This means that the 1:1 exchange rate that was being used by OMCs for the procurement of fuel will be discontinued with immediate effect.
"The new position is necessary to promote the efficient use of foreign exchange and to minimise and guard against incidences of arbitrage within the economy."
The decision to discontinue the 1:1 exchange rate for fuel comes against the background of concerns by market watchers that some beneficiaries of the scheme were abusing it, hence the continued fuel supply bottlenecks in the country.