Zimbabwe's rising smart agriculture solutions technocrat Clive Nyapokoto of Shift Organics has charmed President Emmerson Mnangagwa with his Vermi Aquaponics System and the Talking Beehive smart farming solutions.
Clive is the founder of Shift Organics, a trailblazing startup which focuses on smart farming solutions. He is also a Harare Institute of Technology alumnus from the university's Software Engineering department.
Speaking during the launch of the National ICT Policy in May, President Mnangagwa expressed delight and amusement after touring Clive Nyapokoto's exhibition stand where he displayed produce of his exciting smart farming solutions which included the Talking Beehive.
In his opening remarks during the policy launch, President Mnangagwa said "Clive told me that one can be able to talk to bees when doing honey production using his computerized system. Well, during our growing times no one wouldn't dare playing close to bee hives because you all know the consequences. But this young generation is full of surprises and we want to produce more young technocrats like Clive to enhance productivity in our economy. This is the reason why we are here to launch the National ICT Policy and the ICT Innovation Drive to capacitate these young startups and create an environment where talent can shine and gets rewarded for producing innovations of national interests"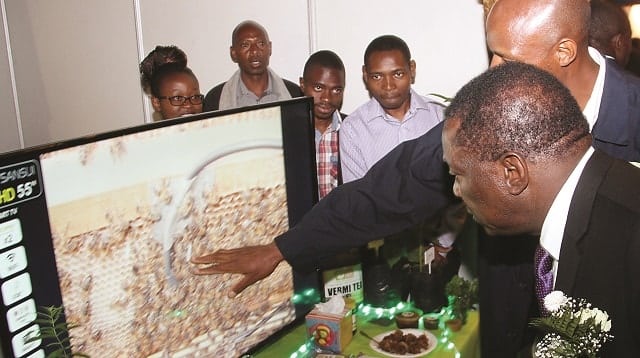 Under his Shift Organics startup, Clive has managed has managed to develop a smart integrated organic farming system called the V.A system Vermi-Aquaponics). It combines vermiculture, aquaponics, small livestock and Information Communication Technology (ICT).
The system utilizes animal waste in the provision of nutrients for the plants and Information Communication Technology is used to remotely monitor and manage the system through any internet enabled device.
Nyapokoto got assistance from paNhari in November 2014 which enabled him to upscale his project from a prototype to a large system which is currently work in progress in Marondera, Svosve communal lands.
He has also implemented the same project in Mbare, Chegutu and Merewa.
In July 2015 the system was among some of the top 40 innovations in Zimbabwe at the Innovation Baraza.
In December 2015 the system was selected in the top 16 of agro- based innovation by the Idugu Institute.
In April 2016 the Project was chosen to be part of the Zimbabwe social entrepreneurship boot camp a program being funded by the United States embassy for 6 months of intensive training on how to run social enterprises in Zimbabwe.
In September 2016 he won the first prize at the Zimbabwe ICT Innovation Showcase.